HCG Diet Store Shipping Policy
HCG Diet Store Shipping Policy
The Health Conscious Guru Diet Store Uses 2 Shipping Carriers: USPS and UPS.
I. USPS (United States Postal Service)
--USPS provides tracking information but it may be a day or two behind.
--USPS Priority Mail is a shipping option for product
--Under normal conditions, orders placed before 2:00pm CST Mon - Fri will ship that same day but orders placed after 2:00pm CST Mon - Fri will ship out the next day. Orders placed after 2:00pm CST on Friday will ship the following Monday.
--USPS Priority Mail transit days are normally 2 to 3 days for the continental U.S., Alaska and Hawaii but transit time for U.S territories, A.P.O., F.P.O. and international addresses will take longer.
II. UPS (United Parcel Service)
--UPS provides tracking information that is normally up-to-date.
--We ONLY ship to physical addresses since UPS does not deliver to Post Office boxes, A.P.O, or F.P.O addresses. Shipments that you have re-routed and shipments to incomplete or incorrect addresses cannot be delivered on time. We guarantee delivery only to the street address you provide. We must have a proper and complete address. We use UPS to ship to all 50 United States.
When calculating your HCG Diet Store.com ship time via UPS, please note the following:
--Order processing stops at 2:00 P.M. CST each day. Any orders placed through HCG Diet Store.com after 2:00 P.M. CST will be processed the on the next business day. We do not ship orders on Saturday* or Sunday.
--Per UPS's Guidelines, the day your package leaves our facility and enters the UPS system does NOT count as a transit day. So, DO NOT count that day in your day count.
--UPS does not deliver on Saturdays* or Sundays.
*If you want to request Saturday delivery for an additional fee, please call us at 1-888-389-3499 to find out if your area qualifies for Saturday delivery with UPS.
--Keeping in mind the above, you can use this map to forecast the arrival of your HCG Diet Store order.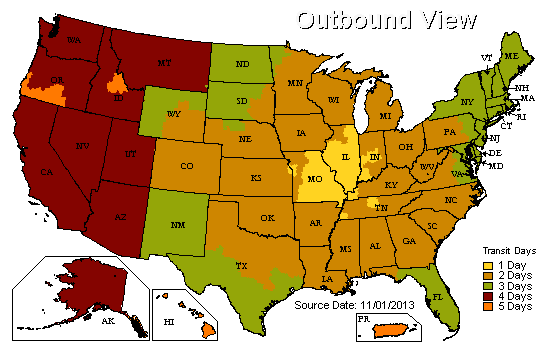 Domestic Delivery Options with UPS:
UPS Next Day: Delivered by the end of the next business day after order is shipped (excludes delivery on Saturday* and Sunday)
Second Day: By the end of the second business day after order is shipped (excludes delivery on Saturday* and Sunday)
Three Day Select: End of the third business day after order is shipped.
Ground: The picture below is the estimated arrival time for HCG Diet Store orders.
UPS does not have transit on the following Holidays: New Year's Eve (Air only) New Year's Day, Memorial Day, Independence Day, Labor Day, Thanksgiving, Christmas Eve (Air Only), and Christmas Day.
International Delivery Options: HCG Diet Store does ship internationally. The shipping delivery time will vary depending on your global location and Customs delays. If you are having issues placing your order on the HCG Diet Store website, please call our customer service department at 888-389-3499.
In-Store Pick Up Option
Live close to O'Fallon, Missouri? We now offer the option to pick up your order, which can save you time and shipping costs.
All you have to do is follow these easy steps:
1. Call us at 888-389-0626 to place your order. Our office is open Monday - Friday, 8 am - 5:30 pm. We are closed most major holidays i.e., New Year's Day, Memorial Day, Independence Day, Labor Day, Thanksgiving, and Christmas Day.
2. Let the customer service representative know that you would like to pick up your order (so they don't charge you shipping--yay!), and what time you will arrive at our office. Please give us 2 hours to process your order.
3. Come see us at 310 Sonderen, O'Fallon, Mo 63366. Our receptionist will have your order ready for you.
The Health Conscious Guru Diet Store Warm Weather Shipping Notice
Certain items (such as some protein bars and chocolates) shipped during the summer months can melt. The shipping department takes every precaution to make sure that all of our products are shipped in fresh condition, but we cannot guarantee your order will arrive un-melted. If your order contains items such as HCG maintenance (phase) protein bars that have been in the heat for any length of time, simply unpack your box, and without touching or smashing individual bars, place these items in your refrigerator for about an hour. They will re-harden and suffer no loss of nutrition.